EG KOREA
Electronic Chemi Light
Other
Information
Company

EG KOREA

Main product

Electronic Chemi Light

CEO

Je-gil Shin

Phone

+82-31-858-1120

Fax

+82-31-858-1110

Homepage

E-mail

Manager

Shin Swung-woo

Manager Tel

Address

EG B/D, 118, Sangpae-ro, Dongducheon-si, Gyeonggi-do, Korea
Hello? It's EG Korea.
EG Korea has led development of the fishing industry by customer-centered management and continuous technical development since it was founded in 1999.
EG Korea firmly established status of an electric chemical light first developed in the world as a result of this effort.
EG Korea is the company which develops, manufactures, and sells products required for fishermen including electric chemical lights and flame fishing weight by using a 3-volt subminiature lithium battery developed by it.
We first succeeded to develop the 3-volt subminiature lithium battery in the world.
<EG battery> can be used in all products which use LED (lamps) as well as products for freshwater fishing and sea fishing.
We again would like to offer customers our heartfelt thanks for having continued to trust and support us until EG Korea is today.
And we will promise you that EG Korea will be with you anytime anywhere. Thank you.
No. 1 company which developed the first ultralight, subminiature, and separable electric chemical light in the world.
No. 1 company which first used the name of electric chemical light in Korea.
The truly No. 1 company of the electric chemical lights for freshwater fishing/sea fishing in Korea.
The No. 1 company which sells one product per 30 seconds.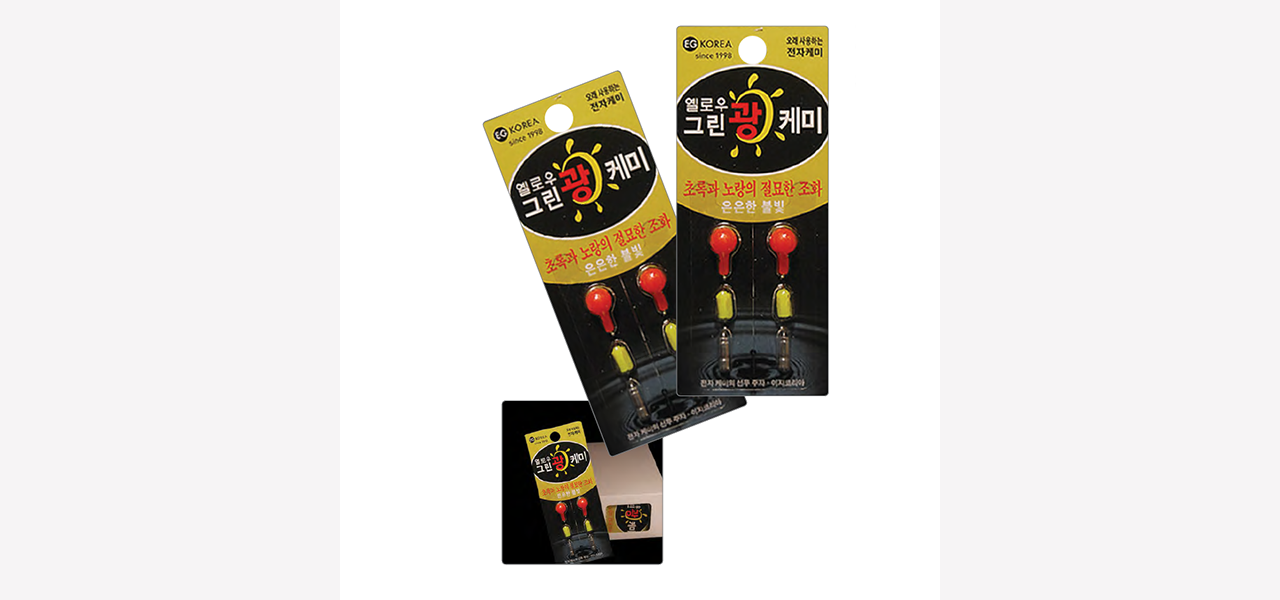 EG Electronic Chemi Light Ø3
The first 'separable electric chemical light' in the world has been loved by a lot of fishermen for many years. The Ø3(3mm) electric chemical light reduces your eyes' fatigue due to constant and continuous brightness and the light which less spreads out and has excellent performance even at high/low temperature.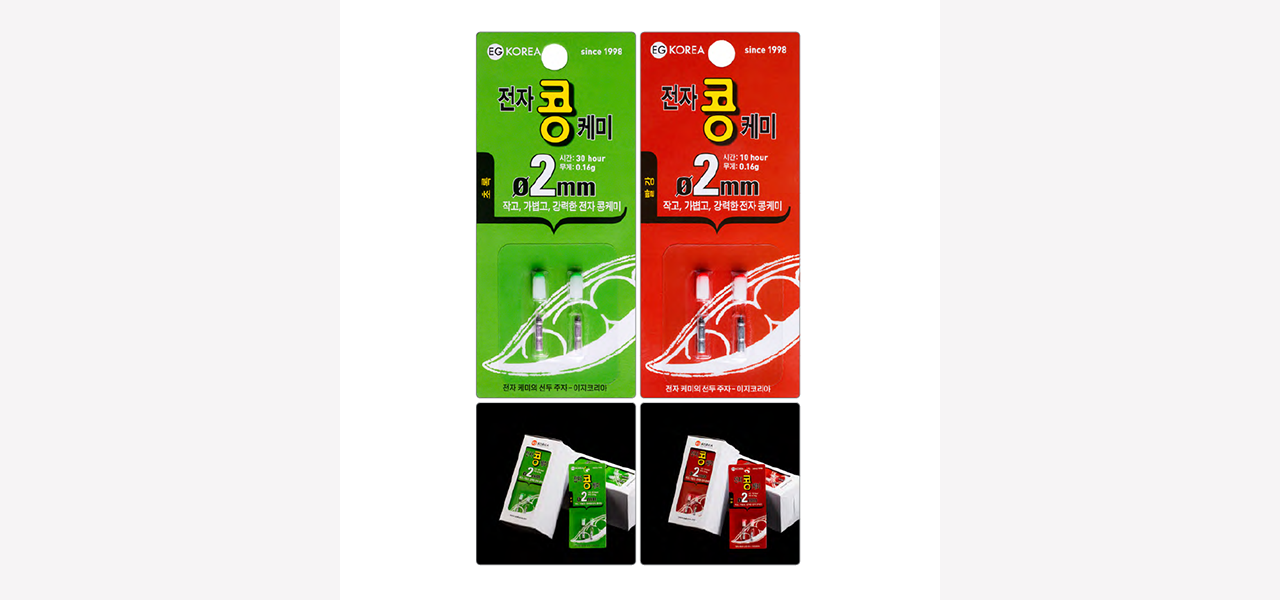 EG Bean Electronic Chemi Light Ø2
The subminiature, ultralight electric chemical light for Ø2(2mm) up fishing and down fishing only is suitable for sensitive and delicate fishing because it is lighter than general chemical lights.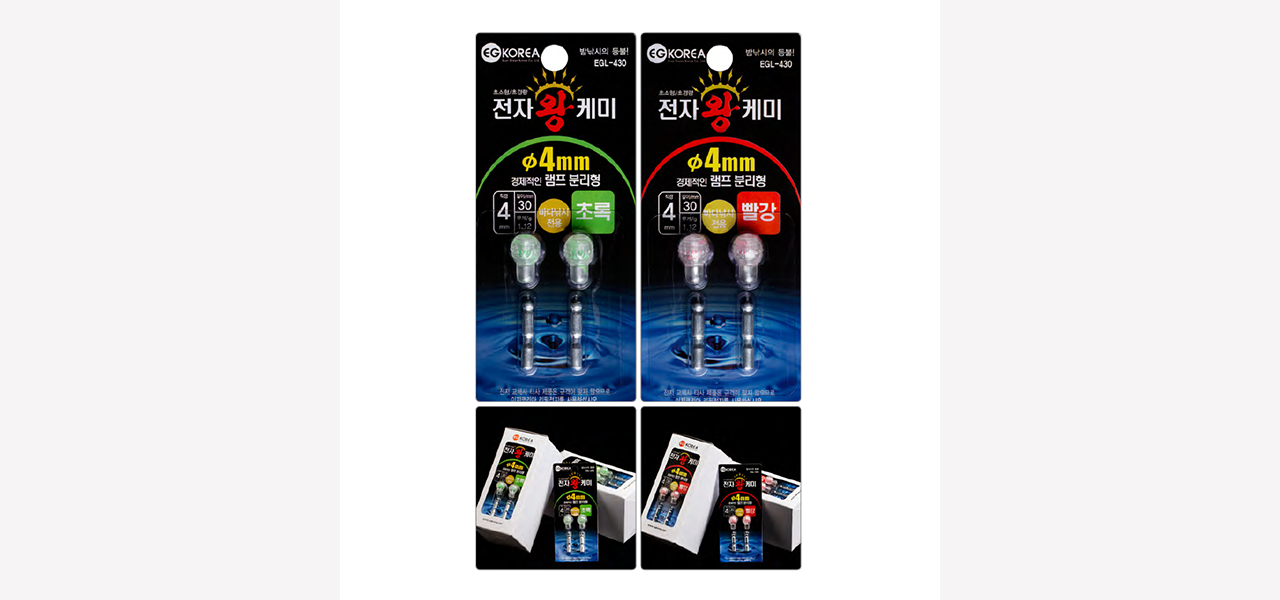 EG Electronic King Chemi Light Ø4
The electric chemical light for Ø4(4mm) sea fishing and sea nursery fishing only is suitable for far sea fishing and 흘림fishing.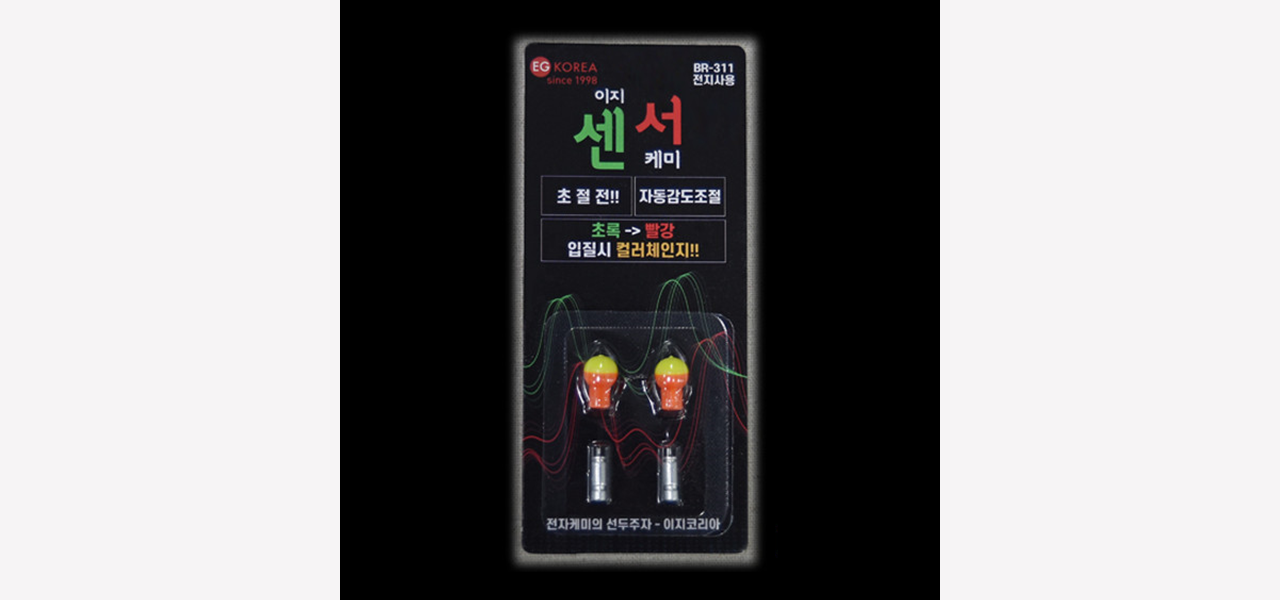 EG Electronic Sensor Chemi Light
The electric chemical sensor light that the color changes from green to red by the sensor when a fish bites is the all-round product with functions of 3-step automatic sensitivity control, automatic light control when waiting for bites, and automatic lights-out. (For BR311 only)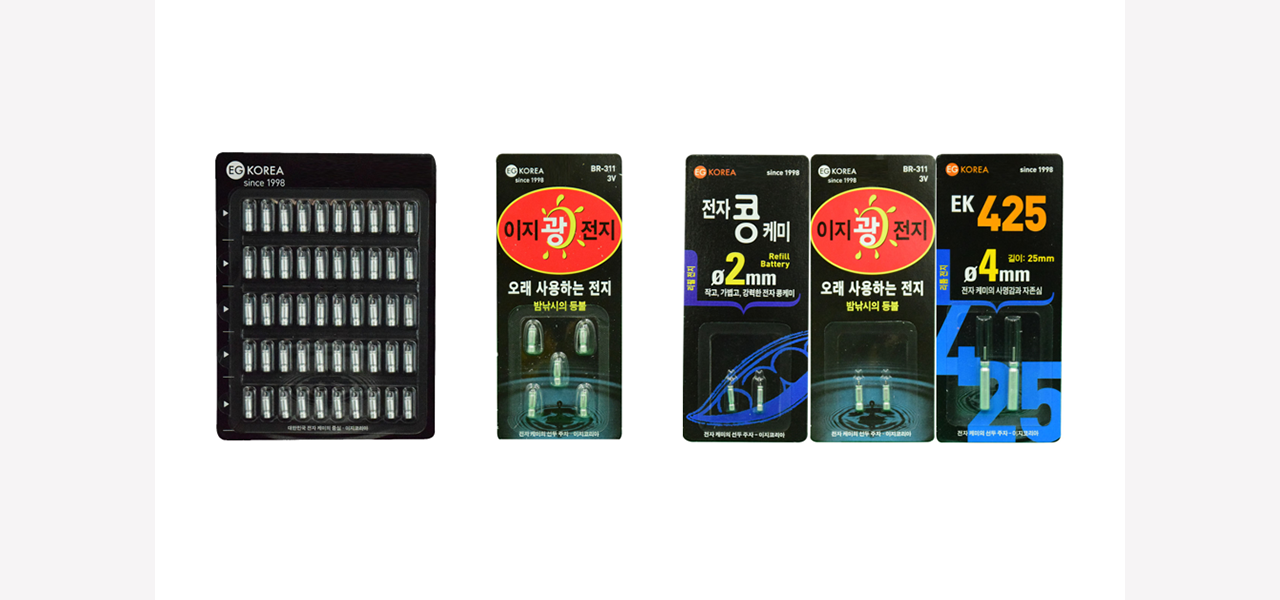 EG Battery
BR311(Ø3), BR211(Ø2), BR425, and BR435(Ø4) are manufactured and used in Electronic Chemi Light, Bean Chemi Light, and King Chemi Light.
Initial voltage of the BR type battery is lower than that of the CR type battery, but it is the advanced eco-friendly battery with high stability that keeps constant voltage.